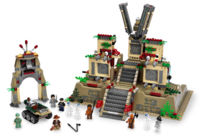 Temple of the Crystal Skull is a lego set. It was released in 2008 and its MSRP was $79,99.
This set contained 929 pieces and included minifigures of Indiana Jones, Mutt Williams, Irina Spalko, a Russian Soldier, two Ugha Warriors, three Crystal Skeletons and a Conquistador Skeleton.
In the thrillling climax to all their adventures, Indiana Jones and Mutt Williams must discover the secret of the Lost Temple of the Crystal Skull before it falls into the hands of the dangerous Agent Spalko. But first, they will have to survive the many perils of the ancient Temple!