Henry Jones, Sr.

"You call this archeology?"
Skill(s)
Academic access
Phobia(s)
Rats
Professor Henry Walton Jones Sr. is the father of Indiana Jones. He appears in Indiana Jones and the Last Crusade. His life pursuit was to find the Holy Grail. He has appeared as a LEGO® minifigure in two LEGO® Indiana Jones sets: in 7198 Fighter Plane Attack and in 7620 Motorcycle Chase. He also appeared as a playable game character in the two LEGO Indiana Jones video games: in Lego® Indiana Jones: The Original Adventures and in Lego® Indiana Jones 2: The Adventure Continues.
Character background
Dr. Jones is played by Sean Connery in the 1989 film Indiana Jones: The Last Crusade. He is hired by Walter Donovan who has found the tablet which may lead to the location of the secret Holy Grail. He has put a package in the mailbox which undercover Nazi agents were unable to find. Henry later finds out that his friend Dr. Elsa Schneider is a Nazi working for the other Nazi Walter Donovan. Later, while working with her in his library, he is captured by the Nazis and taken to the castle Brunwald. Later he is saved of course by his son, Indiana Jones. They have a funny scene in the castle Brunwald where he and Indiana are arguing while sitting on a chair and on fire. He then tells Indiana that the Grail must not get into the wrong hands and they head to Berlin where they try to complete there adventure. Later in the movie, he is shot by a Nazi; but then when they find the Holy Grail then Indiana heals his wounds just in time. Throughout the movie, he and Indiana have fun times and in the end, they have no grail.
In Indiana Jones and the Kingdom of the Crystal Skull, which is set in the year 1957, Indiana says "First Dad, then Brody, now even Mac is as good as dead.", symbolizing that his father has since then died.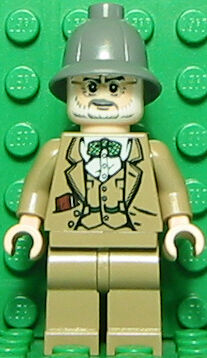 In LEGO® Indiana Jones
Henry Jones, Sr., appears in LEGO Indiana Jones: The Original Adventures as a playable story character. He like other characters, e.g. Henry Jones Sr., Rene Belloq, Elsa Schneider, Marcus Brody, and Walter Donovan can solve hieroglyph puzzles to either progress through Story Mode or find secret areas in Free Play.
When Indiana gives him a drink from the Holy Grail, he obtains full youth making him stronger, which is shown when he carries Brody and Sallah out of the collapsing temple. He is even shown carrying his horse in the ending scene.
Appearances in Lego®
Sets
Games
Community content is available under
CC-BY-SA
unless otherwise noted.