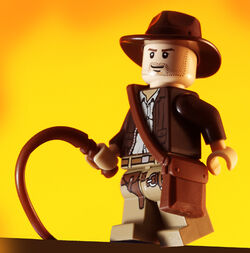 LEGO Indiana Jones is a LEGO theme based on the Indiana Jones film series. Sets have been released but there will be six more sets released alongside the film in May 2008. Currently, the sets range in price from $9.99 to $59.99 US. The sets from the new film range from $9.99 to 69.99 US.
There was mild controversy surrounding the release of a Lego product line based on the films, partially due to the presence of Nazis as villains in them, and how they would be portrayed as minifigures. This was eventually resolved by the depiction of German soldiers in generic khaki uniforms devoid of any Nazi insignia. Also, the involvement of religious aspects in the plots of the film was a sensitive issue. The Ark of the Covenant is actually depicted in Lego form in The Lost Tomb set; however, it is replaced by a golden treasure chest in Race For the Stolen Treasure. The release of sets from the Lego Adventurers line, a pastiche of Indiana Jones, will no longer be feasible since Lego has secured the rights to the actual franchise
There is also a video game titled Lego Indiana Jones: The Original Adventures which which was released in North America on June 3, 2008, in Australia on June 4, 2008 and in Europe on June 6, 2008.
The successor of this game, Lego Indiana Jones 2: The Adventure Continues was released on November 6, 2009.
The LEGO Indiana Jones toy line paused in 2010 as well as in 2011.
Products
Name
Number
Minifigures
Released
Notes
Ambush in Cairo
7195
Indiana Jones (jacketless), Marion (Cairo), Cairo Swordsman, Cairo Henchman
2009
Chauchilla Cemetery Battle
7196
Indiana Jones (new face), Mutt Williams, Cemetery Warrior (Two), Conquistador Skeleton
2009
Venice Canal Chase
7197
Elsa, Indiana Jones, Kazim and Venice Goon (one)
2009
Fighter Plane Attack
7198
Henry Jones Sr., Indiana Jones and German Soldier
2009
The Temple of Doom
7199
Indiana Jones, Short Round, Willie Scott, Thuggee (2) and Mola Ram
2009
Motorcycle Chase
7620
Indiana Jones, Henry Jones, Sr., German Soldier
2008
The Lost Tomb
7621
Indiana Jones, Marion Ravenwood, Skeleton
2008
Race for the Stolen Treasure
7622
Indiana Jones, German Soldier (Three)
2008
Temple Escape
7623
Indiana Jones, Rene Belloq, Satipo, Jock, Skeleton (Two)
2008
Jungle Duel
7624
Indiana Jones, Irina Spalko, Mutt
2008
River Chase
7625
Indiana Jones, Russian Soldier (Two), Marion Ravenwood
2008
Jungle Cutter
7626
Indiana Jones, Colonel Dovchenko, Russian Soldier (Two)
2008
Temple of the Crystal Skull
7627
Indiana Jones, Mutt, Irina Spalko, Russian Soldier, Native Leader, Native, Crystal Skull Skeletons, Conquistador Skeleton
2008
Peril in Peru
7628
Indiana Jones, Mutt, Irina Spalko, Russian Soldier, Pilot, Colonel Dovchenko
2008
Toys "R" Us (limited edition).
Jungle Cruiser
20004
Indiana Jones
2008
"Brickmaster set"
Shanghai Chase
7682
Indiana Jones, Willie Scott, Short Round, Kao Kan and Lao Che
2009
Fight on the Flying Wing
7683
Indiana Jones, Marion, German Pilot, German Mechanic
2009
External links
Community content is available under
CC-BY-SA
unless otherwise noted.