Sallah

Life goes on Indy.
Real Name
Sallah Mohammed Faisel el-Kahir
Weapon(s)
Shovel
Skill(s)
Digging
Sallah Mohammed Faisel el-Kahir, better known as Sallah is a friend and colleague to Indiana Jones. Played by John Rhys-Davies, he appears in two of the four Indiana Jones movies; in Raiders of the Lost Ark and Last Crusade. He has a wife and nine kids and a brother-in-law whose car was destroyed when blasted by an APC (Armed Personnel Carrier). In Raiders of the Lost Ark, his wife questioned his children about the monkey dubbed 2nd Monkey in her home. Later, the children saved their "Uncle Indy" from being shot by Belloq's thugs, ending with Belloq assuring Indy that "It will take more than children next time". He later accompanies Indy to find the Ark's location. In the third movie he helped Indy and his father find the Holy Grail.
In Lego Indiana Jones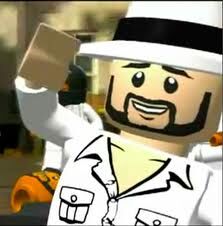 Sallah appears in Lego Indiana Jones: The Original Adventures as a playable character with the digging ability. In the Last Crusade, he is unlocked with a Fez, and helps Indy defeat Colonel Vogel.
Strangely the version of him in the level City of Danger is not a playable Character except for Lego Indiana Jones The Original Adventures DS, He is, however, a customizable character, and appears in the sequel in this form.
Appearance in LEGO sets
So far, no Sallah minifigure has been introduced.
Outfits